Twitter, il noto social network, ha iniziato a testare una nuova modalità di notifiche, per informare i propri utenti delle eventuali restrizioni in atto sul proprio account, tramite l'apparizione di messaggi, che verranno visualizzati non appena effettuato il login, all'interno dell'applicazione.
Come potete vedere dall'immagine sottostante (pubblicata da Twitter Support @TwitterSupport), se il vostro account dovesse essere sospeso o bloccato, verrebbe pubblicata una nuova notifica, nella parte superiore della timeline, che lo chiarisce senza alcun dubbio di interpretazione, evitando di avere quindi delle "sorprese spiacevoli" durante l'uso comune di Twitter (ad esempio, nel momento di twittare o di interagire con altri post con il proprio account).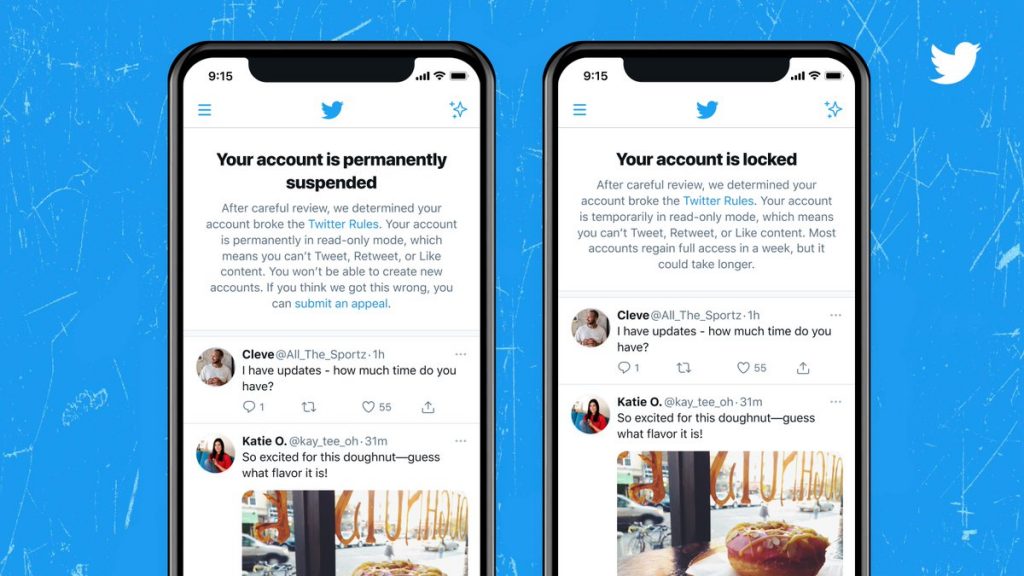 E' lo stesso Twitter a spiegarlo chiaramente:
Knowing where your account stands is important. We're testing a new way of letting you know — right when you log in.

If your account is locked or suspended, some of you will start seeing a banner making that clear.
(Conoscere lo "stato" del proprio account è importante. Stiamo testando un nuovo modo di fartelo sapere, proprio quando accedi. Se il tuo account è bloccato o sospeso, alcuni di voi incominceranno a vedere un banner che lo spiega chiaramente).
Le nuove informazioni aiuteranno a ridurre la confusione che attualmente colpisce molti utenti quando vengono sospesi, e servirà anche da promemoria sulla durata della sospensione, senza obbligare l'utente a effettuare laboriose ricerche per trovare queste informazioni. Ogni sanzione verrà spiegata chiaramente e verrà anche contestualmente fornito il link per eventuali "ricorsi".
Allo stesso tempo Twitter sta lavorando a un nuovo Centro di Sicurezza, che dovrebbe essere accessibile direttamente dal menu dell'applicazione. Il Centro fornirà una panoramica completa sulle segnalazioni e gli avvertimenti attualmente in essere sul proprio account.
Tutte queste nuove funzionalità rientrano nel tentativo del social network di essere sempre più trasparente e, al tempo stesso, cercano di aiutare gli utenti a comprendere quali comportamenti non sono permessi e quali comportano delle penalizzazioni.